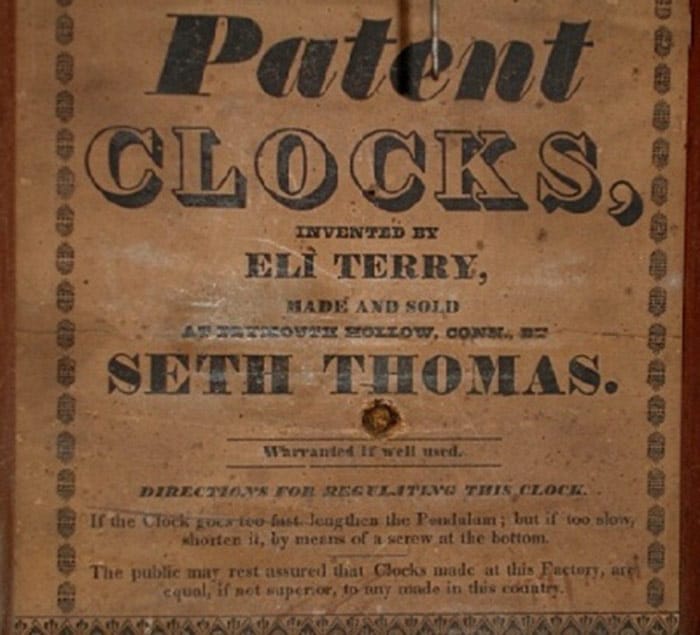 Although this is not a complete list, the companies below are clocks we see almost everyday.
If your clock isn't on the list just give us a call. Some makers/manufacturers didn't list their names so call us if you don't know the name or you are unsure of the make/maker.
We will be more than happy to help you!
Please call before bringing your clock in because we may be out on a house call.
American Clocks (All mechanical types)
American Heritage Clocks
Ansonia (Clock Company)
Aaron Willard
Boston Clock Company
(The) Calendar Clock Co.
Chelsea Clock Company
Colonial Clock Co.
Daneker Clocks
Durfee (Walter H.) Clock Company
Elliott of London
Emperor Clock Company
English Grandfather Clocks (Any Maker)
Ethan Allen (Mechanical clocks only)
E. Howard Clocks, Clock Company
E. Ingraham Clock Company
"Fashion" Clocks – Southern Calendar Clock Co.
French Clocks (Any Maker)
German Clocks (Any maker)
Gilbert (William L.) Clock Company
Gustav Becker
Haas & Sohne
Hamilton Clocks (Mechanical Clocks Only)
Harris & Harrison Clock Company
Hermle Clocks and Movements
Herschede Clock Company
Herschede Hall Clock Company
Howard Clock Company
Howard Miller Clocks
Ithaca Clock Company
Junghans Clock Company
Kieninger Clocks and Movements
Kroeber Clocks
Kuempel Clocks
Mason and Sullivan
Morbier (French) Clocks
New England Clock Co.
New Haven Clock Company
Pearl Clock Company
Ridgeway Clocks
Sessions Clock Company
Seth Thomas Clock Company
Simon Willard
Sligh Clocks
Smith (Geo. W.) & Co.
Southern Calendar Clock Co. ("Fashion" Clocks)
Tiffany & Company
Terry (Eli) Clock Company
United States Clock Company
Waltham Clock Co.
Waterbury Clock Company
E.N Welch Clock Company
Winterhalder Clock Company
We are currently NOT accepting any mantel or wall clocks for repair. Grandfather clocks only (Mobile in home service for Raleigh, Cary, Apex, Holly Springs and Fuquay-Varina only).
The Clocksmith
Bryan Smith, 4th Generation
Raleigh, NC
919-649-0120
Email me
Member of British Horological Institute and NAWCC since 1993